Furnace Tuneup - Winter Is Coming
Monday, September 13, 2010
Furnace Tuneup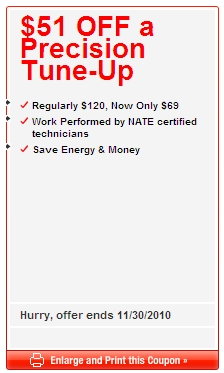 Just a reminder that winter is right around the corner and it's time to think about things like a furnace tune up.
While checking around for one of our clients I noticed a special offer from BW Service Experts. They are knocking $51 dollars off their normal $120 furnace tune up price. The special lasts until November 30th. Total cost for the furnace tune up which includes a filter replacement up to 1 inch think, is 69 bucks.
That's a pretty good price.
And no, we're not kicking any kickbacks for promoting BW Service Experts, it's just that I checked around and this price of $69 was $120 less expensive than the other well known HVAC company in the area I called.
So if you're thinking about giving your furnace a tune up before winter now is the time to call.