Anita Says - Cake Eating Made Simpler
Wednesday, August 12, 2009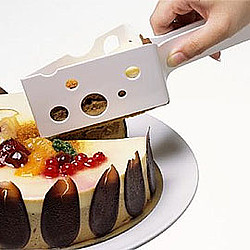 Looking for a practical gift that performs a vital function to your daily life? Of course you are and here it is.
Necessity is the mother of invention and when it comes to cutting a piece of cake necessity has finally produced "The Piece of Cake".
This absolute necessity to your current collection of kitchen utensils neatly cuts a piece of cake and lifts it out so you don't leave a single crumb for any one else.
Just press down, lift up and ...Voila.
The only real problem I can see with this terrific kitchen tool is the size. I'd have made it a tad larger :-)
Click here to learn more about "A Piece of Cake".